Learning at Hanover
Our curriculum intent
Hanover's curriculum is designed to ensure that all children are challenged and stimulated through a creative and rigorous approach to teaching and learning. It is broad and ambitious in all subject areas.
Primary schools in England are made up of three distinct phases; the Early Years Foundation Stage (EYFS), Key Stage 1 and Key Stage 2 and must follow 2 statutory curriculums, the EYFS statutory framework and the National Curriculum. The EYFS caters for Nursery and Reception aged pupils, Key Stage 1 for pupils in Years 1 & 2 and Key Stage 2 for Years 3 to 6. While our school structure is based on mixed aged classes we ensure that pupils are taught the appropriate statutory curriculum for their age. You can find out more about how we organise our classes by clicking here.
We want our children to understand the world around them. We want them to develop skills and knowledge, and, crucially, to understand WHY these are so important. We try to ensure that planning represents our community, that we talk about the big issues that will face our children, and that we equip them for the next chapter in their lives. Our planning aims to make learning contextual and to give children first-hand experience wherever possible.
Critical to our intent is the development of character. Our vision and ethos statement outlines how important this is at Hanover.
English and maths are central to our curriculum. The mastery of early reading and the foundational aspects of mathematics are essential if children are to access the rest of the curriculum. However, we value the foundation subjects just as highly. We build in a range of enrichment projects in each phase - from ukulele lessons for all children in year 2, to wild-camping residentials in Year 6, regular art lessons with our resident specialist art teacher, or inter-school sports competitions, we know that these opportunities are hugely beneficial to our children.
Implementation
Our approach to learning in Nursery and Reception
The Early Years Foundation Stage (EYFS) is the curriculum stage for children aged 0-5. At Hanover, we have a nursery class, and three mixed Reception and Year 1 classes.
Planning in the Moment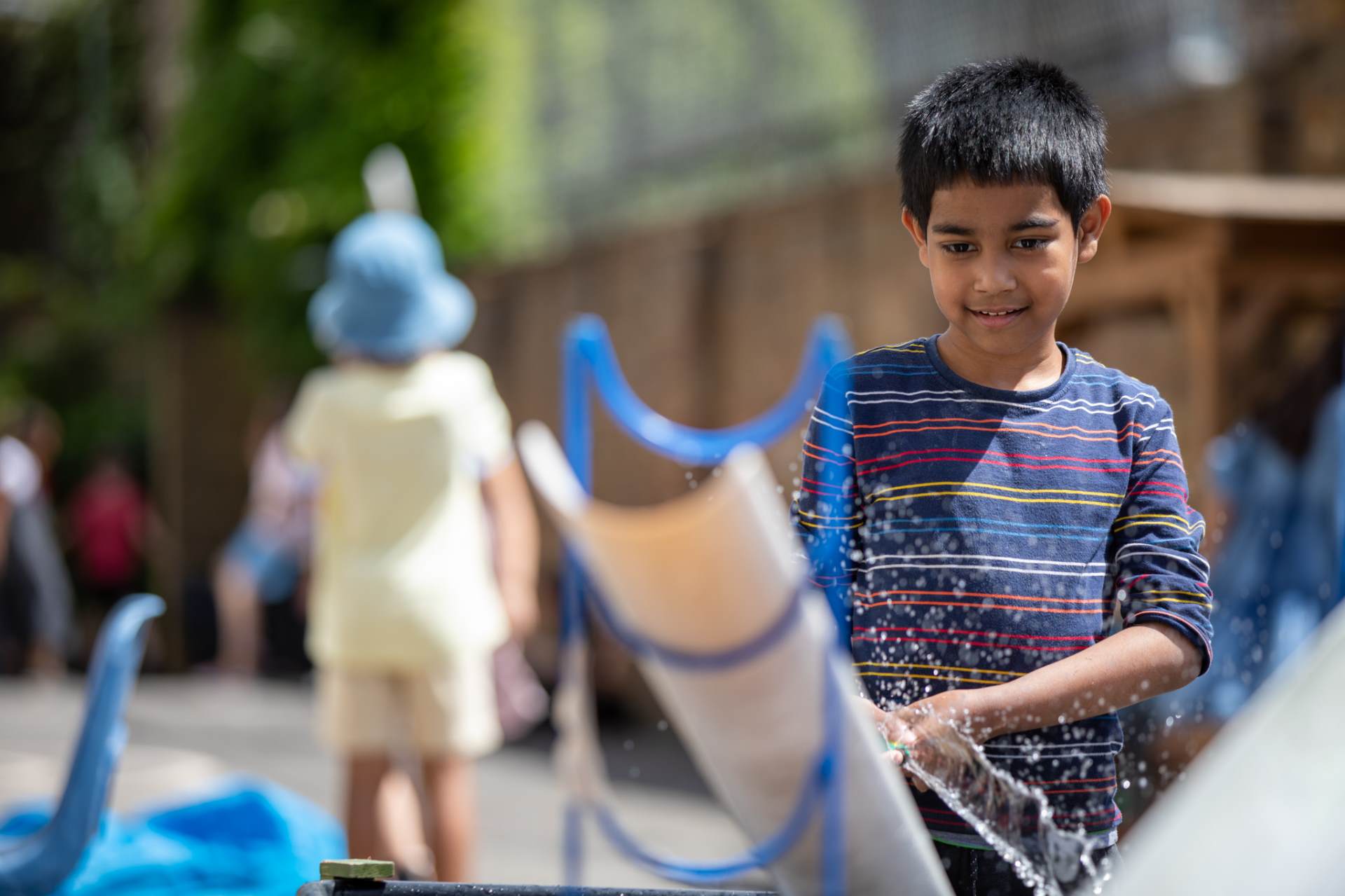 At Hanover, we believe that how children learn is as important as what they learn. We know that children learn best when they are engaged and involved in an activity and that the highest levels of involvement are seen in children during child-initiated play. What will captivate a child cannot be planned for in advance. Finding those moments of high involvement requires giving children time and space to explore their own ideas and interests through play. Therefore, in our EYFS and Year 1, much of the day is spent in child-initiated play, where each child chooses what they want to do.
The Role of the Adult
Teaching happens through thoughtful adult interactions during play where a 'teachable moment' has been identified in a period of high involvement. Teachers therefore plan 'in the moment' and scaffold the next steps for that child there and then. This could be suggesting an idea, asking a question, introducing new words, providing equipment or modelling a skill, for example. Through sharing their play, the adults in the setting really get to know and develop strong relationships with each child. They have a detailed understanding of each child's needs, interests and how to support each child as an individual. Every term each child in Nursery, Reception and Year 1 has a focus week where their interactions are recorded to create a personal learning journey which is shared with parents or carers.
Workshop Environment
We have a workshop-style environment inside and outside, with zoned areas for different types of activity. The children select what they want to do in each area. Resources are varied and open-ended to support high quality learning. They are accessible to the children at all times and stored with visual labels to promote independence and autonomy. Children have opportunities to try new things, take risks and to challenge themselves. They are also able to return to activities time and time again to develop and extend their understanding. Children have access to the outside areas throughout the day, every day, whatever the weather.
The Curriculum
The EYFS curriculum is statutory, which means it must be followed in all early years settings (children aged 0 – 5) in England. We use an additional non-statutory document called 'Birth to 5 matters' to further guide our practice. Learning in the EYFS framework is across seven areas, three prime areas and four specific areas. Each area has several aspects. These are listed below.
Prime areas
Personal, Social and Emotional Development:
self-regulation, managing self and building relationships
Communication and Language:
listening, attention and understanding, and speaking
Physical Development: gross motor skills and fine motor skills
Specific areas
Literacy: comprehension, word reading and writing
Mathematics: number and numerical patterns
Understanding the World: past and present, people, culture and communities, and the natural world
Expressive Arts and Design: creating with materials and being imaginative and expressive

The Prime Areas
At Hanover, we begin by focusing on the prime areas – personal, social and emotional development, communication and language and physical development – as we know that these are the foundation of all future learning. We support our children in developing the skills they need to self-regulate their emotions and to self-govern their behaviour. We have a trauma-informed approach to behaviour management. We solve problems through talking about what has happened and what we can do to make it better. We encourage children to express their own ideas, needs and intentions and to listen to those of their friends. Each child's voice is valued. We work with a speech and language therapist to deliver targeted support for children who need support with their communication.

We want all children to be independent in their self-care. We understand that children develop these skills by being given opportunities to make choices and to evaluate different situations for themselves. We help children to identify and understand potential risks and benefits in order to make good choices. In our woodwork area children use real tools to demonstrate how responsible and focused young children can be when given the chance to do so. Children have many opportunities for physical activity in their play; developing gross motor skills through activities such as running, climbing, balancing and building, and developing fine motor skills through activities such as mark-making, cutting, sticking and using tools.
Characteristics of Effective Learning
We know that this way of learning creates confident, independent and creative learners. Through following their own interests and learning through play, children develop the characteristics of effective learning. Children at Hanover are playing and exploring all the time, investigating their own ideas and having a go at new things. They learn actively and are highly motivated. They seek out challenges, take risks and aren't afraid to make mistakes. They think critically and choose their own way of doing things. They are creative and imaginative and they are not afraid to have different ideas. These characteristics provide the foundation for all of their learning in the future.
The Daily Routine
There are certain times of the day when all the children within a class come together to talk about their learning or to share a story or song together. We also teach children directly for short periods, for example, for phonics or maths. This provides children with the opportunity to acquire specific skills and to consolidate their understanding. The length and content of these sessions are always developmentally appropriate for each year group. Children have a music session with a specialist teacher once a week as well as PE lessons, once they are in KS1.
Our approach to learning in Year 1
Our approach in the Lower School means Year 1 pupils are taught in classes alongside Reception children.
Year 1 has daily phonics lessons, shared and guided reading sessions, daily writing tasks and short, practical maths lessons. They also have regular PE and music lessons. Year 1 cover the other national curriculum subjects in a way that is developmentally appropriate, and wherever possible links the content to the children's interests and fascinations. For example, children have daily access to art resources, woodwork and other modelling materials; they find minibeasts and grow food in the garden; they cook regularly in the classroom; they are expected to research and present topics of interest to their classmates; families are invited to share aspects of their home cultures that bring geography, history and RE to life; the books teachers read to children are carefully chosen to expand their knowledge of various topics. Where curriculum objectives need to be taught more directly, short focused teaching sessions are also planned.
Our approach to teaching in years 2-6
Teaching in years 2-6 becomes more formal, and discreet lessons are taught throughout the day. Below is a summary of how subjects are delivered. You can click on the links to find out more about each subject.
Our topic-led approach to science, history and geography in years 2-6
From year 2 up to year 6, we take a topic-led approach to teaching in history, science and geography, with these topics also lending themselves to cross-curricular work in other subjects too. Below is an overview of the topics that we teach. You can click on each title for a short summary of learning, as well as how our topics build upon each other.
Cycle

autumn

spring

summer

Y2

How did I get here?

(geography, science, PSHE)

This unit builds on work in Y1 where children research their own past and their family histories, and present their learning to the class.

Year 2 children, and their lived experiences, are placed at the core of this topic. Pupils' family connections to different places in the UK and the world are explored. This is used as a way of making connections with classmates, understanding similarities and differences between children, and learning about places around the world. Mapwork and fieldwork in local spaces are a core element, as are researching family histories, and understanding their friends' religions, festivals and places of worship. In science, children learn about their bodies and the importance of a healthy lifestyle. Circle Time is used to explore feelings, and 'mindful' methods to regulate their emotions are practised.

Families are invited in to share aspects of their lives, including faiths, family histories and cultures, and migration stories.

What is a city? (and what isn't?)

(geography, history, science)

This unit builds on work in Y1 where children research places that are important to them and present their learning to the class.

Children learn where London is and what makes it a city. They begin to understand how the city is governed, and the role of the capital city in the governance of the UK. Similarities and differences between London and its surrounding countryside are identified, and pupils consider the benefits and drawbacks of living in these areas. Other world cities, particularly those pupils have connections to, are contrasted to London. The second half of the topic asks 'How has London changed over time?' focusing on the causes of the Great Fire of London. Children learn how to light a fire and consider how fires start and spread. They compare the different materials used for buildings and other artefacts. The impact of wealth and power on who was most affected by the fire is considered. Children also explore the lasting effects of the Great Fire and how London has changed as a result.

Learning beyond the classroom: a trip around London to visit key landmarks and buildings of power, and a 'Fire, Fire' workshop at the Museum of London.

How do minibeasts help us?

(Science)

This unit builds on work in Y1 where children research animals that are important to them and present their learning to the class. It further develops understanding of common minibeasts found in the school garden.

Children learn about the importance of minibeasts to human life. 'Minibeasts' are categorised according to their similarities and differences. Minibeasts' microhabitats, the ways they protect themselves, and their role in different food chains and ecosystems are explored. Children take an in-depth look at bees and worms, considering their roles in biodiversity. They develop skills to debate whether worms or bees are most important. The use of pesticides and subsequent reduction in biodiversity are explored; children consider what people can do to protect minibeasts.

Learning beyond the classroom: a minibeast hunt at Camley Street Nature Reserve, and a Wonderful World of Bees workshop at Gillespie Park.

Y 3&4

A

What have we learnt from the Ancient Egyptians?

(history, geography)

This unit builds on the physical features and changes over time learnt about in the Y2 What is a City? topic.

The topic begins with the geography of Egypt: its location and its key physical features. Children learn about the importance of the River Nile and consider why so many settlements are close to rivers. Primary and secondary sources are explored, including a focus on the Rosetta Stone and its role in decoding hieroglyphs. Children go on to consider power in Ancient Egypt and how its social pyramid worked, and compare this to how modern societies operate. They will consider how Ancient Egypt contrasts with other ancient civilisations, and compare the Book of the Dead with other sacred religious texts. Children will also create artwork influenced by the Ancient Egyptian colour palette.

Learning beyond the classroom: a visit to the Egyptian galleries at the British Museum.

How has science changed our lives?

(science)

This unit builds on the work in Y1 and Y2 about how life has changed over time.

Built around science units of work on electricity and magnets, this topic also explores important inventions past and present. Beginning with lightbulbs and switches, children investigate circuits, their components and the conductivity of various materials, applying their knowledge to design and make games. Computer networks and their inputs and outputs are explored. Children get familiar with magnets, considering magnetic forces, the magnetic qualities of different materials, and inventions which use magnetism. Children learn about the development of medicine and drugs, and how they should be administered safely. In art, the children produce work inspired by the inventor, Leonardo Da Vinci; they analyse and create technical drawings for inventions. The topic concludes with an evaluation of the impact of science on our daily lives.

Learning beyond the classroom: tbc

Where does our food come from?

(science, geography, DT)

This unit builds on pupils' experience of growing and cooking food in Reception and Y1. It also develops their understanding of healthy living in the Y2 All About Me topic.

Children learn how food is produced and how it gets from farm to fork. They consider food movements such as fair trade, and learn why agricultural sustainability is important. From looking at the country of origin of common foods, children develop their geographical knowledge. They consider how British colonialism led to the introduction of foodstuffs like tea, sugar and coffee into the UK). They learn about the impact of 'food miles' and how locally sourced food minimises its environmental impact. Supported by the excellent book The Great Food Bank Heist, children consider food and inequity, visiting a foodbank to understand why this is needed in our local area. Children learn about food chains, teeth and the digestive system in science. In RE, they compare different religions and how religion can affect food choices. In DT, children evaluate a variety of different breads, and then design, make and evaluate their own bread roll.

Learning beyond the classroom: visits to Spitalfields City Farm, a local supermarket and a food bank.

B

Why do people move around the world?

(geography, history)

This unit builds on the personal history and geography knowledge covered in Y2's All About Me topic.

Children find out about their own families and migration histories, whether within London, the UK, Europe or further afield. Families tell their stories, and children consider the 'push and pull' factors which drive migration, with an emphasis on its key role in human history. Children learn about the British Empire and the impact it had both on the colonised countries and on the modern population of the UK. In an in-depth study of the Windrush Generation, children consider what it was like for migrants to leave the Caribbean, their treatment in Britain past and present, and the positive impact their arrival had on the UK. The books The Boy at the back of the Class and The Journey help children understand the geopolitics behind people being refugees, and develop empathy for those for whom migration isn't choice, but necessity.

Many religions consider life to be a journey, and children compare the rites of passage of different faiths. Children read Sweet Clara and the Patchwork Quilt, taking inspiration from the way quilts which were a covert strategy for communication and escape for some enslaved people using the 'underground railroad'. Children create their own quilts to represent a personal journey.

Learning beyond the classroom: visit to the Migration Museum

How do we know what life was like long ago?

(history, science)

This unit builds on children's knowledge of different sorts of historic evidence covered in the What is a City? topic in Y2.

Using primary and secondary sources of evidence, the children understand what life was like in prehistory, journeying through the Stone, Bronze and Iron ages. Children grapple with the timespan of these 'ages', compare the similarities and differences between them, and learn about the impact of the arrival of bronze and iron upon human life. In science, the children explore different kinds of rocks, experimenting and investigating to learn how metamorphic, sedimentary and igneous rocks are formed. Taking a virtual visit to view the prehistoric cave paintings of sites such as the Magura Cave in Bulgaria, the children produce their own cave paintings using techniques from 5000 years ago.

Learning beyond the classroom: visit to the British Museum

Where does our rubbish go?

(science, geography)

This unit builds on their knowledge of materials from Y2's What is a City? topic.

Children think critically about the amount we consume, and waste, and what happens once things have been thrown away. They consider ways to be more sustainable by reducing consumption and producing less waste. In an in-depth study, children investigate materials and compare the impact of their disposal - either by being thrown away or by being reused or recycled. Recycling in nature is considered when learning about the water cycle and how food waste can be composted to support new food growth. In more science, children learn about the properties of materials in different forms: solids, liquids and gases. The children consider whether rubbish can become art, and produce their own artwork from junk, including collage from old newspapers.

Learning beyond the classroom: trip to a local community garden to understand composting

Y 5&6

A

Why do people invade and settle in new places?

(history, geography)

This unit builds on pupils' understanding of global geography and migration in LKS2's topic Why do people move around the world?

Children consider why people in the past have invaded the British Isles, from the Romans, to the Anglo-Saxons and Scots, to the Vikings. They think about what drew invaders here, the impact the waves of settlement has had on Britain, and learn what life was like for the people of the British Isles at that time.

The unit goes on to consider where and why Britain has invaded and settled around the world. Children learn about the impact of colonialism on those countries, the expansion and shrinking of the British Empire, and the legacy it has left on modern Britain.

As part of their RE unit, children look at Jesus's mission and the different strands of this before examining what we can learn from Jesus's teachings in the 21st century.

Learning beyond the classroom: tbc

What have the Ancient Greeks done for us?

(geography, history)

This unit builds on knowledge of prehistoric civilizations in LKS2's How do we know what life was like long ago? topic. It further develops pupils' geographical knowledge of Europe from the Why do people move around the world? topic.

This shorter topic begins with a geographical study of the modern country of Greece, considering its terrain, climate and land features. It then becomes largely history-orientated. Firstly, children understand when the Ancient Greeks existed in history by creating a chronological timeline. They learn about some of Ancient Greece's most renowned achievements through the study of artefacts and sources. They consider how these have impacted western society including art, literature, architecture, sport and governance. As part of this topic, children create pots in their art lessons, inspired by those found in Ancient Greece.

Learning beyond the classroom: visit local buildings influenced by classical Greek architecture; visit to the British Museum

What was the 'Golden Age' of Islam?

(history, RE)

This unit builds on knowledge of prehistoric civilizations in LKS2's How do we know what life was like long ago? topic. It further develops pupils' geographical knowledge of Europe from the Why do people move around the world? topic.

Mainly a history-based topic, the children learn when the Golden Age of Islam took place and how it compared and differed to the Dark Ages in Western Europe. The children then focus on the city of Baghdad and its prominence in the Abbasid empire, considering its geographical and economic advantages. They study how Baghdad cemented its reputation as a centre of learning, through its establishment of the House of Wisdom and several universities. The ongoing impact on modern life of several key inventions and discoveries from this era are considered. As part of their RE topic, children consider whether art or architecture is a better way to express religious beliefs, and what it is like to grow up as a Muslim in Britain today.

Learning beyond the classroom: visit to a mosque

How can we keep the lights on?

(science, history, geography)

This unit builds on the electricity part of the topic How has science changed our lives? in LKS2.

Built around science units of work on electricity, children consider how electricity is generated, learn the circuit symbols, draw diagrams of circuits, and become electricians by building and fixing electrical circuits. They learn about fossil fuels, where they are found and their long term impact upon society. Children consider and debate the use of fossil fuels, and also learn about renewable energy sources: wind, solar, hydro and geothermal power. Children consider the pros and cons of each energy type, and their impact on the local and global environment. They learn how major cities' efforts to be more energy efficient, and consider what Hanover Primary School could do to be less reliant on fossil fuels. This topic includes science days of practical experiments to investigate how light and shadows behave.

B

What and where is Planet Earth?

(science, geography)

This unit builds on the scientific knowledge of solids, liquids and gases in LKS2's Where does our rubbish go? It also develops understanding of innovation and inventions begun in LKS2's How has science changed our lives? topic.

Children study the movement of the Earth and other planets in relation to the Sun in the Solar System, as well as the movement of the moon around the Earth during the lunar cycle by building scientific models of each process. Building upon this, children learn how Earth's orbit relates to why we have day and night. Children investigate different proposed theories of how our universe was formed from both a scientific and religious angle. Modern day space exploration is investigated as children delve into the geopolitics of the Space Race and more recent adventures in space.

Learning beyond the classroom: visit to Greenwich Observatory

Why is there life on Earth?

(science, geography)

This unit builds on knowledge of animals and humans from the topic How did our food get here? in LKS2.

Focused on evolution and inheritance, children consider why there is life on Earth, and how different forms of life are related to one another. Pupils learn how physical and behavioural characteristics are passed down from their parents in their genes, and consider the impact of experience and environment.They examine how living things change over time by considering the evolution of humanity over millions of years, and study the factors which influence evolution. Finally, children investigate how organisms can evolve to become adapted to their particular environment and learn about the crucial work of scientists such as Charles Darwin in developing the evolutionary theory of natural selection.

Learning beyond the classroom:

How has Islington been changed by war?

(history, geography)

This unit builds on the geographical skills and an understanding of the impact of global events from LKS2's unit on Why do people move around the world?

This twentieth century history unit focuses on the impact of the first and second world wars. Children consider the political and socio-economic events in Europe that contributed to these wars. They learn about conditions for those fighting the war on the frontline as well as those living in wartime Britain by using a range of sources of evidence. Building an air-raid shelter, conserving and pickling foods and 'making do by mending' give children practical experience of life in wartime Britain. Children conduct local case studies, touring the local area, comparing maps of Islington before and after the wars, and noticing the effects of war on the physical appearance of their local area. Children learn about migration into Islington and discover how, right up to the present day, refugees and victims of war have become part of the local community. Through this topic, children's oracy skills are developed by discussing and debating social justice themes such as fairness and compassion.

Learning beyond the classroom: visit to Imperial War Museum

Why are sea levels rising?

(science, geography)

This unit builds on two LKS2 topics: materials knowledge from Where does our rubbish go? and a greater understanding of the impact of human behaviour on the planet, building on the topic How does our food get here?

Children learn how climate change is contributing to rising sea levels, and the link with a rise in extreme weather and habitat loss. They re-enact melting ice sheets in the Arctic through their science unit on solids, liquids and gases. They study the Arctic Ocean and Antarctica in detail, using maps, atlases and digital mapping. They learn how rising sea levels are threatening communities across the world by conducting a series of case studies, contrasting Norfolk in the UK with ???. They learn about why flooding happens, and about initiatives to reduce the impact of rising sea-levels, taking inspiration from the efforts of global climate activists.

Learning beyond the classroom: visit to the Thames Barrier
Progression in learning
In order to ensure children are able to build upon prior knowledge, learning at Hanover is carefully sequenced so that we can ensure progression across all subjects. Click below to see how we sequence the curriculum for each subject.
Art progression mapComputing progression mapDesign and Technology progression mapEnglish progression mapGeography progression mapHistory progression mapLanguages progression mapMathematics progression mapMusic progression mapPhysical Education progression mapPersonal, Social Health and Economic Education progression mapReligious Education progression mapScience progression map